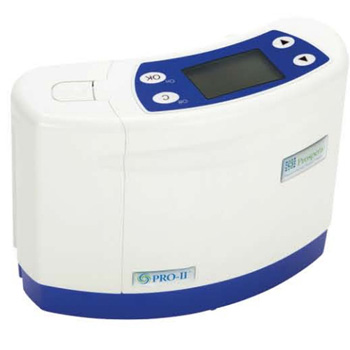 The portable Prospera PRO-II features all the functionality of the PRO-III but weighs only 2.6 lbs. It has a built-in disposable collection canister as well as a custom carrying case.
The Prospera PRO series combines state of the art technology with proven Negative Pressure Wound Therapy protocols. Designed for advanced patient comfort, ease of use and cost-effective outcomes, the Prospera PRO series has become the preferred choice for residents, caregivers and facilities nationwide.
Features and Benefits:
Dual operating modes offer Continuous Therapy for Intermittent Variable Pressure Therapy (VPT) for added patient comfort.
Ultra quiet operation.
Battery operable.
Durable and lightweight with an easy grip handle.
LED status indicator and audible safety and overflow alarms.
NPWT dressing technique based on the teachings of Drs. Mark Chariker and Katherine Jeter.
Available Dressings: Black Foam, White Foam, Silver, and Gauze.
Prospera Negative Pressure Wound Therapy (NPWT) Videos