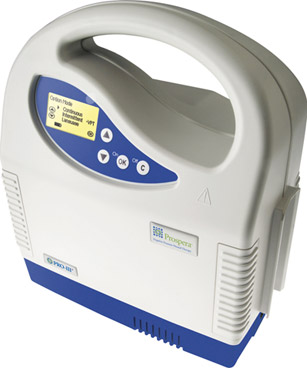 The PRO-III™ is the next step forward for Prospera's PRO series of NPWT pumps. Weighing less than 5 lbs. the PRO-III delivers all the features and functionality of Prospera advanced NPWT and then some.
ADVANCED SAFETY FEATURES
Proprietary internal and external filter system to provide an extra level of safety
 NEW PATIENT MODE
Adjust alarm sensitivities

Monitor patient compliance
LARGER, COLOR-CODED DISPLAY SCREEN
Easier to read
Pump idle: yellow
Pump running: green
Error message: red
 FEATURES AND BENEFITS
Variable Pressure Therapy VPT®Exclusive to Prospera VPT® provides enhanced benefits of intermittent therapy without the pain and complications of existing systems. (painful high to low pressure spikes, dislodging of foam dressings)
Continuous Pressure TherapyWe recommend pressures in the -80 mmHg range for optimal benefits with significantly reduced pain
Virtually Silent OperationAllows patient to sleep at night, reduces noise pollution during the day, and increases compliance
Advanced Filtration SystemProprietary internal and external filter, and provides an extra level of safety
Lightweight
Fully customizable
Long Battery running time (24 - 48 hours depending on use)
Simple keypad operation
Comprehensive alarm systems, adjustable for sensitivity
Reduced patient pain during use and with dressing changes
Moist AMD gauze dressing protocol eliminates the "2 hour rule"
Available Dressings: Black Foam, White Foam, Silver, and Gauze.
Prospera Negative Pressure Wound Therapy (NPWT) Videos